Meet Our Caregivers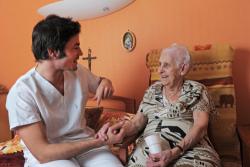 Here at My Angels Home Care Agency, we value our patrons above all. It is our mission, day in and day out, to fully satisfy every client and every family member through the services we give them.
This can only be made possible through the care providers we give them, as well. Our people is our face when it comes to our clients so we make sure that we have with us only the most qualified and dependable people who can well represent who we are as a company.
Our caregivers are very-well selected from a number of participants. We make sure that their personal, educational, and professional background are thoroughly checked so that we don't make the mistake of hiring people who might have potential character or skills problem. We are also so much into training them to ensure that are updated with the latest when it comes to quality home care.
Our caregivers are fairly-remunerated, recognized, and rewarded for their job. These things, intrinsic or extrinsic, inspires them to do their jobs better each day and reward us, their clients and our company, with their full dedication and loyalty.
Should you need to know more about our people and services, kindly connect with us through the contact information we have in this site.